Written By : Samantha Cee
This week we sat down with the amazing innovative brand, hippE, for a Q & A with the rising brand . hippE is a lifestyle and community that is fluent in the language of art and style. She believes that everyone has their own unique look and hippE helps you find yours. Specializing in vintage clothing and thrifting, hippE has the gift to take any budget and make you look and feel like a million bucks. The blog is where she shares daily style inspirations, D.I.Y. ideas and projects, fashion and beauty finds, munchies, bits and pieces of hipster life in Atlanta, and experiences from other creative and artistic individuals who are dreaming big and creating their own happiness, all while saving a little kale(cash). Take a look at our interview with the rising brand sweeping the internet .
Instagram: @hippe.co & Twitter: @hippe_co
Facebook: www.facebook.com/hippe.co // www.hippe.co
Getting Thrifty
with hippE
Fashion Gxd Magazine: How did the idea for your business come about?
hippE: Can I be honest? God, he gave me the entire vision for hippE. He gave me all of the experiences and circumstances that inspired me to come up with the vision, the logo, the style, and even set the tone for hippE. It's my baby and because God gave it to me, hippE will continue to be bomb and prosper!
Fashion Gxd Magazine: How do you find people to bring into your organization that truly care about the organization the way you do?
hippE: You know when you got this dope outfit in your closet that you keep overlooking because you want to wear it to that "special" event and when you finally put that bad boy on you go everywhere, and I mean EVERYWHERE, you don't even want to go home because enough people haven't seen you yet. hippE is that dope outfit for me. Everywhere I go, I wear my brand proudly, I am my brand, and it attracts every beautiful soul. BOOM! hippE grows!
Fashion Gxd Magazine: What three pieces of advice would you give to other children who want to become entrepreneurs?
hippE: One, stay true to yourself, your morals, and your beliefs. Two, have faith and stay positive. Three, work hard and represent your brand well always.
Fashion Gxd Magazine: If you had the chance to start your career over again, what would you do differently?
hippE: I would not have procrastinated as much. hippE was something I debated back and forth with for a while, until I just finally did it. I would have also embraced my dopeness sooner. Often, I found myself "watering down" my greatness so that I wouldn't intimate others or make them feel uncomfortable, but thank God for growth! We can't let others dim our light because it's shining in their eyes. Get some sunglasses!
Fashion Gxd Magazine: What would you say are the top three skills needed to be a successful entrepreneur?
hippE: I call them my three c's lol. Commitment, Consistency, and Connections. And of course, Christ! I know that's four lol.
Fashion Gxd Magazine: What have been some of your failures, and what have you learned from them?
hippE: Prior to hippE, I had an online vintage boutique, which didn't last long due to me not believing in myself and including too many people to make MY dream come to life. I quickly learned, you can't do that. I can confidently say that hippE is 1001% organically me, no one else!
Fashion Gxd Magazine: How many hours do you work a day on average?
hippE: I currently have a 9-5, so on top of my 8 hours I try to dedicate at least 2 hours per day to hippE, sometimes more depending on what's going on. I also try work on hippE at least 4 hours on the weekends and rest on Sundays. I have my Annual hippE Frugal Fashion Wars every year, so from January-May, I'm usually super busy with hippE. Oh yeah, make sure you come this year! It's a super fun event!
Fashion Gxd Magazine: Describe/outline your typical day?
hippE: My typical day begins at 6:45am, I get myself and son dressed, drop him off at school, and I'm at work by 8:30. I work for a nonprofit association, so my day consists of emails, phone calls, and other various administrative duties. On my lunch break, I typical take photos for hippE to post for my #ootd and engage in some social media activity, then it's back to work. I get off at 5:00, pick up my son and head home to cook dinner for my family. Once everyone's fed, bathed, and in bed, I may post on social media, brainstorm, or write a new blog post, depending on what inspired me that day. Go to sleep and do it all over again the next day!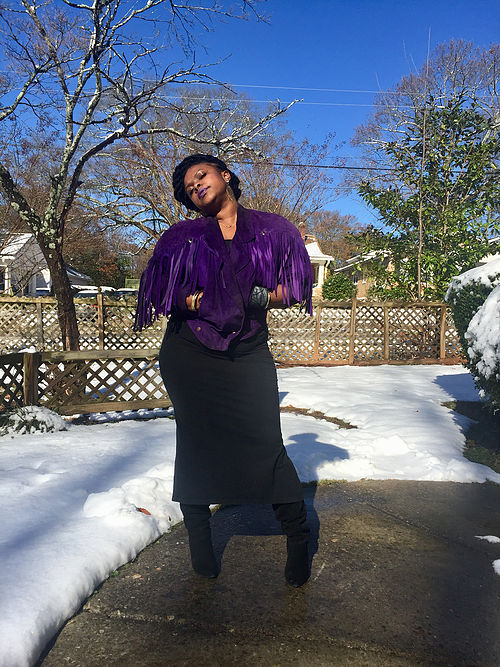 Fashion Gxd Magazine: How has being an entrepreneur affected your family life?
hippE: It really hasn't affected my family life, if anything I would say it has been a positive thing. My dude and my son get to see me work a full-time job, do what I love, and still take care of home. My family is very supportive of me and I just want to make them proud. Even though they hate my phone sometimes, I know it's all love!
Fashion Gxd Magazine: What motivates you?
hippE: Inspiring others is my main motivation. Knowing that I sparked a flame in someone else's brain brings me so much joy! A feeling that I crave more and more of! Also, the fact that soon I'll be doing what I love for a living! All the motivation I need!
Fashion Gxd Magazine: How do you generate new ideas?
hippE: New Ideas are generated through inspiration. It could be an experience, a song, a smell, a picture, or even something my three-year-old son has said. I'm constantly inspired, and everything inspires me!
Fashion Gxd Magazine: What sacrifices have you had to make to be a successful entrepreneur?
hippE: The most impactful sacrifice I've made so far would be my time. I dedicate a lot of my time to hippE; however, I'm not making a lot of money from it yet. Another sacrifice would be my personal finances and filtering the wants from needs. Like i said before, I don't make much money from hippE yet, so events that I attend and things that I do for hippE are paid for with my personal income.This can make it sort of stressful at times, but I continue to remain faithful and follow my heart and God always looks out and makes things possible for me!
Fashion Gxd Magazine: Where you see yourself and your business in 10 years? 20 years?
hippE: In ten years, I see myself doing hippE exclusively. Focused on my dreams and not working for anyone else. I will have a successful blog with a growing and supportive following, loads of happy stylish clients, and curating and hosting bomb networking events. In twenty years, I see me teaching other beautiful souls all I know, working remotely and traveling the world seeking more inspiration and playing dress up!