MadeWithLove13 is an online boutique founded by Lauren B Mattison. Crochet apparel and accessories are IN and taking the fashion industry by storm because of its versatility. From crop tops, to swim, cover ups and even full dresses, crochet is not just another fad. Every item is handmade Lauren describes making each piece made with love, by Lo, her nickname.
Lauren's love for DIY (Do it Yourself) projects fueled her passion to create handmade apparel for all shapes and sizes. Like many "DIYers" Lauren referred to YouTube tutorial videos to perfect her craft.
Lauren believes that MadeWithLove13 would not be what it is today without the help from twin sister Ashley Mattison. Ashley, who has a passion for broadcast journalism and social media handles marketing portions of the business.
Lauren plans on attending medical school in the future. In the meantime she works full time as a Patient Care Technician at a local clinic. Make sure to be on the lookout for blog posts from: the ABC's of Health & Wellness blog, which has recently been added to the MWL13 brand. The blog features a variety of topics regarding mental, spiritual, emotional & physical health & wellness. Take a look at our exclusive interview with the rising entrepreneur
Shop now at madewithlove13.com
Facebook: madewithlovecrafts13
"Ultimately,I would have to it's simply the law of attraction, like attracts like."
Twitter: @madewithlove_13
Instagram: @madewithlovecrafts13 // Personal IG: @laurenbrittneyyy
Fashion Gxd Magazine : How did the idea for your business come about?
MadeWithLove13 : Naturally I'm a very crafty person, I've always enjoyed DIY projects. A few years ago when high waisted jeans came back I spent a lot of time on tumblr looking at different vintage style oufits and I stumbled across a few images of girls wearing crochet tops and I was like that's so cute I could probably make that myself. About 3 summers ago a friend of mine actually took the time to sit down and teach me the basics of crocheting. It took me forever to get the feel for it but with practice, watching YoutTube tutorials, and my mom serving as my mentor I was able to get better.
Fashion Gxd Magazine : How do you find people to bring into your organization that truly care about the organization the way you do?
MadeWithLove13 : Ultimately,I would have to it's simply the law of attraction, like attracts like. When I go out to different events around the city (Atlanta) or just do things like getting my hair and nails done. Like-minded people have a way of crossing paths effortlessly. Networking and social media definitely help as well, for instance if I have a friend or a friend of a friend that enjoys fashion, modeling, etc I make time to find ways to collab.
Fashion Gxd Magazine : What three pieces of advice would you give to other children who want to become entrepreneurs?
MadeWithLove13 :Do what you love. When you're spending time doing things you love it doesn't feel like a burden or work and you're more likely to stick with it.
Have Patience. It's rare that things happen exactly how you want down to the last detail..life happens. Not much truly happens overnight so again love what you're doing and enjoy the ride.
Network. I'm naturally a people person, and I understand that it's important to get to know people. As an entrepreneur you're not working for a company that's already established their brand, you're working for yourself. It's important to network with other people to establish trust in other people so they can see why they should invest their time in your brand opposed to the next person. Bringing it back to doing what you love, when you love something you already have that push that makes it easier to talk about.
Fashion Gxd Magazine :If you had the chance to start your career over again, what would you do differently?
MadeWithLove13 : I'm still growing my career so I'm very open to making changes to grow. As far as my journey to my career I would make time to find a couple more mentors. All throughout college I had mentors that I could talk to if I needed help and I have a couple currently that help me with my full time career in medicine. I do wish I would have made time to find business mentors that could give me advice and help keep me going if I needed push.
Fashion Gxd Magazine :What would you say are the top three skills needed to be a successful entrepreneur ?
MadeWithLove13 : Stand OUT. Do something different and if you are doing something that other people may be selling as well make sure you give buyers a reason to want to buy from you opposed to the next business.
Accept change, the only thing constant is change and the only way to grow is to be prepared to change.
Invest. Invest time and money. Spend that extra hour doing whatever it is you need to do to grow your business. Whether it's spending a little more time on social media, researching business strategies, etc.
Fashion Gxd Magazine :What have been some of your failures, and what have you learned from them?
I think investing money is good but you have to make sure you're not putting too much into the business. When I originally started my business before I made a website I sold product at retail value which with crochet is tricky because it's very time consuming so to sell at retail value I'd basically be making zero profit. So doing research on businesses that sell handmade items definitely helped. Also just being patient again, I got frustrated in the early stages of my business because I wanted to push more sales or even make more product than time would allow but I understand that patience is key. Made With Love 13 is only a year old so I have plenty of time to learn and grow.
Fashion Gxd Magazine : How many hours do you work a day on average?
MadeWithLove13 : I work full time as a Patient Care Technician 12 hour shifts a few days out the week and I dedicate time after work and my off days to Made With Love 13. Working full time in the medical field is different, we don't work classic 9-5 shifts Monday-Friday so I'd have to set it as a weekly average. So weekly I would say I spend about 20-24 hours crocheting, social media or my website.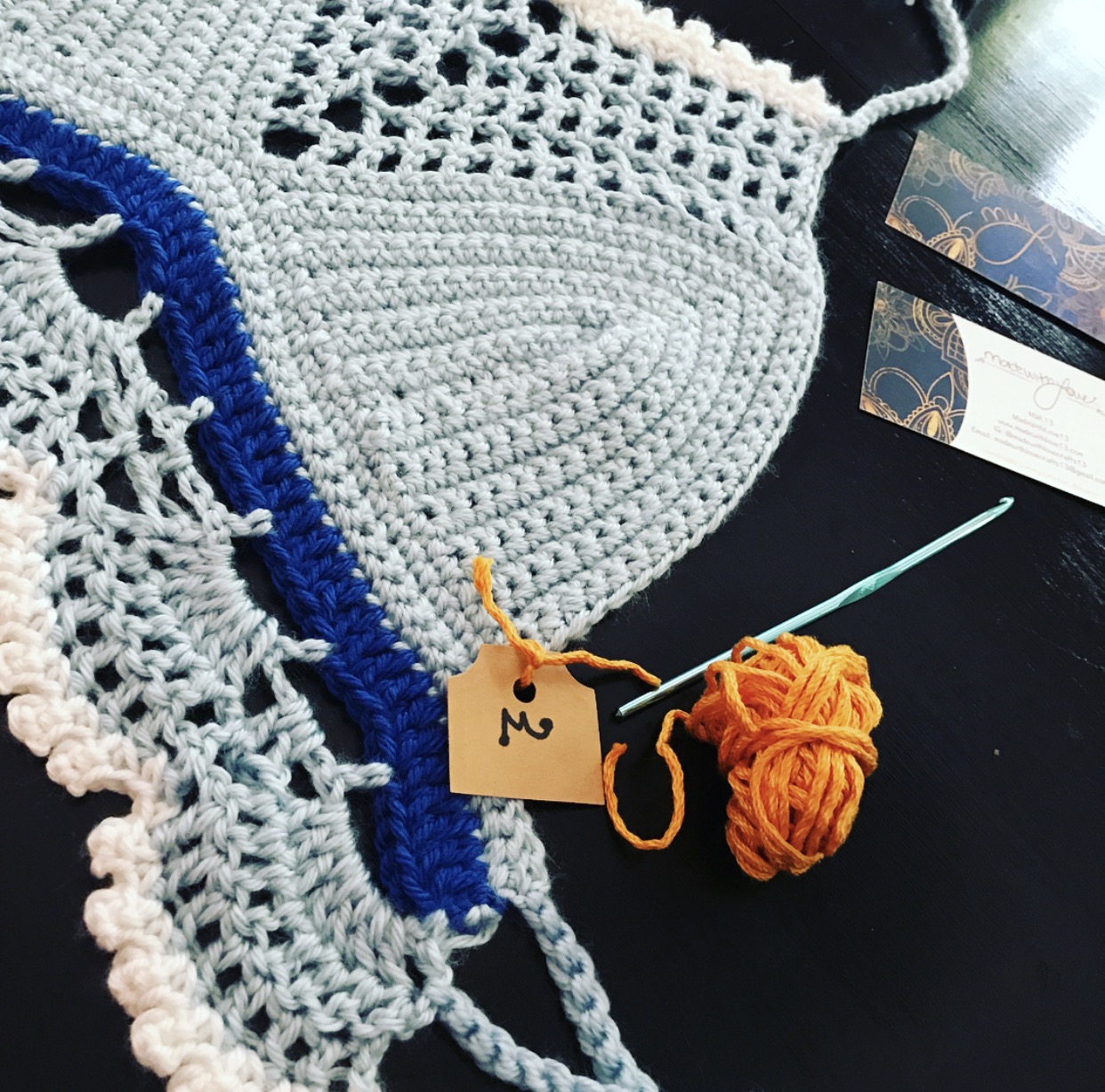 Fashion Gxd Magazine :Describe/outline your typical day?
MadeWithLove13 :A typical day working on Made With Love 13, includes waking up checking my emails and social media. Then I'd make breakfast, work on whatever crochet piece I had started or I'd start something new based on what yarn I already had or make a custom piece. If I don't have anything to work on or don't feel like crocheting I take pictures for social media to promo or update my website. I usually watch Netflix or tv shows like Power or Insecure while I crochet. I'd do that for a few hours make lunch check my social media after lunch I usually relax and do some studying, then work out and get back to crocheting if I'm in the mood.
Fashion Gxd Magazine : How has being an entrepreneur affected your family life?
MadeWithLove13 : Definitely, I didn't go to college to study business or how to become an entrepreneur. I majored in Biology/Premed with a minor in Health Education & Promotion at Georgia Southern University. I planned on going to medical school following graduating in May 2016, but I wasn't fully prepared. I'm working on going back to school but as far as family there's always that concern that Made With Love 13 takes up too much of my free time. So I do try to find balance between studying and crocheting. It's hard because crocheting for me is relaxing so it's not something I do just to make profit, I truly enjoy it.
'Crocheting is art in it's own so every piece I make I personally enjoy'
Fashion Gxd Magazine :What motivates you?
MadeWithLove13 :I think the biggest motivation is people being so supportive of my business. Support doesn't necessarily mean being a customer. Simply liking a post on social media keeps me going because it reassures me that people are interested in what I do. Crocheting is art in it's own so every piece I make I personally enjoy but I know not everyone's going to like it. Just knowing that I do have support from others keeps me going.
Fashion Gxd Magazine: How do you generate new ideas?
MadeWithLove13 :Usually I look at different hashtags on social media #crochet #crochetbikini etc things like that. I really enjoy fashion in general so try to keep up with the latest trends and incorporating that into crochet. Other times I just feel a creative energy and just start making things along the way.
Fashion Gxd Magazine : What sacrifices have you had to make to be a successful entrepreneur?
MadeWithLove13 :I would say the biggest sacrifice would be time. There's been times, especially when I first started where I wouldn't go out on the weekend so I could work. On the other hand there have been occasions where I still wanted to be social so I sacrificed my sleep so I could make time to go out.
Fashion Gxd Magazine : Where you see yourself and your business in 10 years? 20 years?
MadeWithLove13 : In the future I see myself working in the medical field mainly holistic health. Educating and practicing in a way that I can utilize things like herbal medicine and meditation. I do want to expand MWL13 to incorporate health related items at some point. As far as crochet I would like to find a way to expand the business so I could make product faster and make a variety of products such as full piece swimsuits, waist beasts, etc. That's in the works but overall within the next 10-20 years I want to grow as a person and expand my business