Written By Samantha Cee
De L'or Cakery is your premier specialty cake caterer. We are very passionate about providing professional service to insure that your event will be a complete success. Our custom and theme pastry designs will be sure to make your special occasion a long lasting memory.Having a professional bakery company cater your events will make you stand out among your friends and associates as a person who will offer the very best! We specialize in cake pops, cupcakes, topsy turvy cakes, theme cakes, specialty cheese cakes, and much more…….My focus is to provide the people of Brooklyn, N Y and surrounding areas with 5 Star Cake Catering experience. Take a look at our exclusive interview with Cake Executive Officer Kayisha Thompson!
Facebook: @DelorCakery
Instagram: @DelorCakery
Twitter : @DelorCakery
Fashion Gxd Magazine : How did the idea for your business come about?
De L'or Cakery: When I graduated with my undergraduate degree, I got the baking bug. I started researching recipes online and baking chocolate molten cakes, cupcakes, and pineapple upside down cakes. Shortly after, I relocated to Atlanta, GA where I came across a JoAnn's fabric store further exploring my new city. I saw the advertising for Wilton Cake Decorating classes and decided to enroll in their beginning and advanced curriculum. After completing the advance curriculum, my instructor asked me to come aboard to teach the children classes to which I agreed. From there, I started posting pictures of my work on Facebook where another entrepreneur inspired me to launch my business. She connected me with a graphic designer that created my logo and from there he created my website. The response I got was fabulous. Facebook helped me book my first cake pop class with students that traveled 45 minutes to learn from me.
Fashion Gxd Magazine : How do you find people to bring into your organization that truly care about the organization the way you do?
De L'or Cakery: The universe has a way of aligning the people that will support you when you least expect it. I have an abundance of support that I never dreamed of. I've had people in my life that supported me because they saw dollar signs. They had their own agenda and it had nothing to do with if I was successful or not. The people that I am surrounded by see a woman of virtue, passion, a lover of kids, and a genuine concern for inner city at risk youth.
Fashion Gxd Magazine : What three pieces of advice would you give to other children who want to become entrepreneurs?
De L'or Cakery : My first piece of advice to other children who want to become entrepreneurs is that it's acceptable to be selfish to yourself. I am not saying to be mean to other people I am saying it acceptable to put yourself first, love yourself, spend time with yourself, and learn to say "no". I grew up in a household where I was raised to put my family first, friends, and then myself in all aspects. I don't advise this you could be in a position where others are taking advantage of you.
From an educational point of view, I advise aspiring young entrepreneurs to explore different avenues by going to the library and reading books. A few years ago, I was terminated from an employer for having a growing business. My boss daughter was an entrepreneur with a struggling business. My part time business was thriving and she was peeved. When I was terminated I was devastated and went through a depression. After my termination, I won a seat in the Count Me in Women's Urban Rebound Business Program for Economic Growth. I went to the library at least once a week and read books on entrepreneurship, how to build your social media platform, attended workshops, and networking events.
Fashion Gxd Magazine :If you had the chance to start your career over again, what would you do differently?
De L'or Cakery: In the past, I had thought about what I would do if I had the chance to start my career all over again. Initially, I thought that I would go straight to Culinary and Pastry Arts School. Based on my experiences and perspectives I wouldn't change how I came about to who I am today. The people and places I've met have contributed to where I want to take my business. Currently, I am a Socio-therapist Supervisor for a nonprofit foster care agency in NYC servicing at risk children, teens, and their families. We have a wonderful CEO and I have a fabulous boss. My boss actually reviewed my business plan and told me how to enhance my business. She's a beautiful woman who is not fearful of another woman's success. She's confident. She is a piece to my puzzle that I would never have imagined. From the work I do with at risk youth has solidified De L'or Cakery's social commitment.
Fashion Gxd Magazine :What would you say are the top three skills needed to be a successful entrepreneur ?
De L'or Cakery : The top three skills needed to be a successful entrepreneur is authenticity, faith in your abilities, and mindfulness. One of the things I love working with teenagers is that they recognize genuineness and I love that about them. How I carry myself and what you see is what you get. I don't put on a façade. I never have and never will. It's important to be true to yourself and others otherwise you will lose out. People who are "woke" can detect a fraud and that will limit your opportunities. I can't tell you how many times in the past I've questioned having a business. I've faced some emotional challenges where I wanted to give up but every time I tried to give up an opportunity arrived at my doorstep reminding me no you have work to do. When I was wrongfully terminated I won Balboa Capital's Business Contest and a seat in the Count Me in Program. When I wanted to give up the International Cake Exploration Societe gave me a $1,000.00 scholarship to advance my cake decorating skills and very unique orders would arrive in my inbox. I still struggle with its not on my time it's on God's time.
Fashion Gxd Magazine :What have been some of your failures, and what have you learned from them?
De L'or Cakery :I can describe my failures in a simple quote, "I don't know the keys to success but the key to failure is pleasing everyone else". As I expressed before, putting other people's interest ahead of your own can cost you financially and emotionally. If you're going to give then give from a place of abundance. If you have more than feel free to share the choice is yours.
Fashion Gxd Magazine : How has being an entrepreneur affected your family life?
De L'or Cakery: At some point in your business, you will need a legal team to advise you as there are people in this universe that will want a piece of what you have that they haven't earned or contributed to. There are people that will want to take away what the universe gifted you out of sheer jealousy. You have to protect what you built. An entrepreneur should have some form of insurance to protect their labor of love. If you're in the food industry you should have food liability insurance, if you are working from home then opt for liability insurance or a rider insurance added on to your homeowner's policy.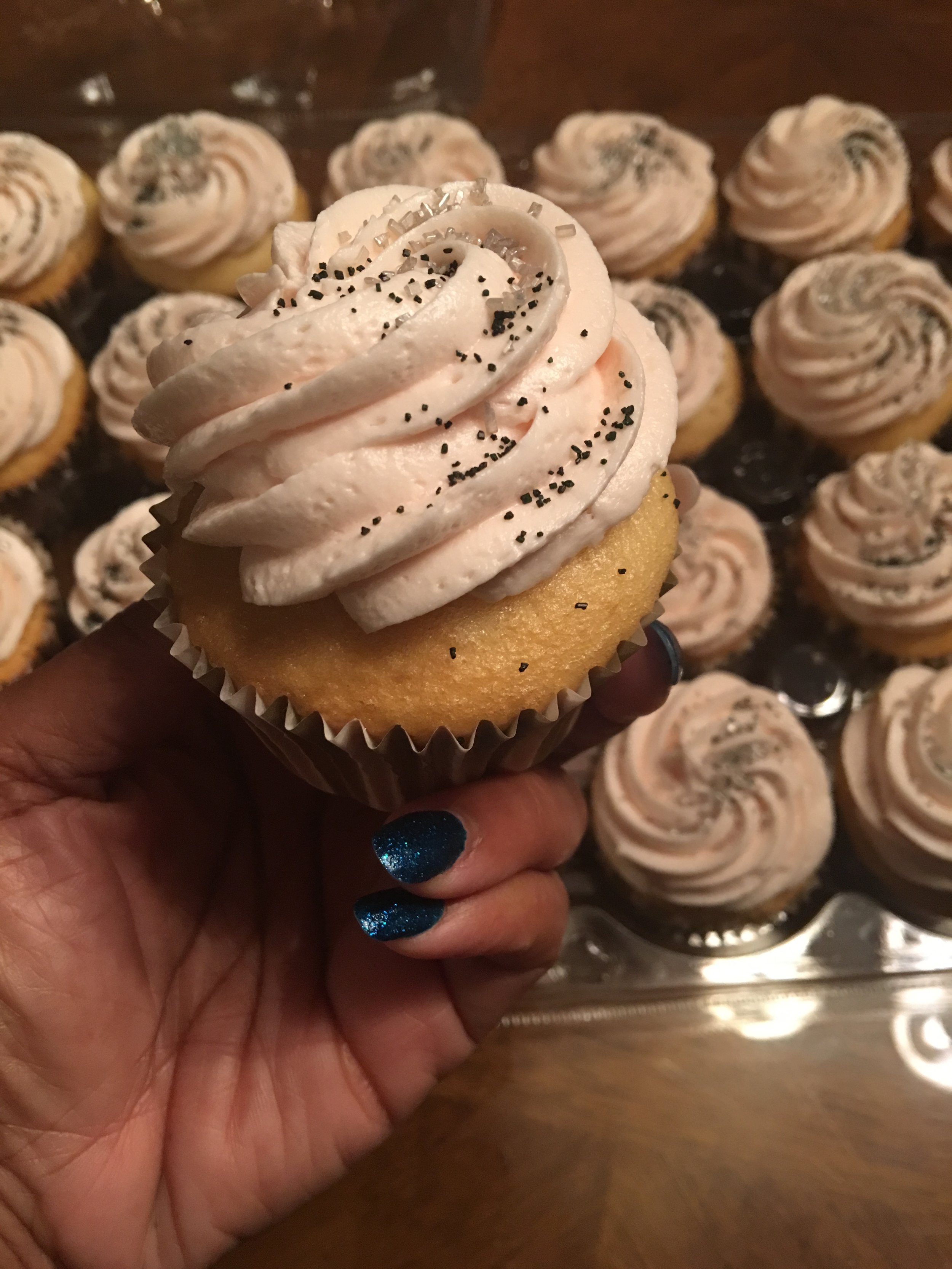 Fashion Gxd Magazine : How many hours do you work a day on average:
De L'or Cakery: I work full time for another company with the goal of growing my business into a full time career. Thanks to modern technology and Google I am able to respond to clients in a timely fashion utilizing various apps such as Google voice, google for business, etc.
Fashion Gxd Magazine :Describe/outline your typical day?
De L'or Cakery: When a client contacts De L'or Cakery for an order I ask them a series of questions. I need to know the date of the event, will they pick up or do they want delivery of their products, the delivery address, cake flavor, butter cream flavor, theme/design, serving's size, and is this being gifted? Based on the information provided and the complexity of the design I quote the client. Once the client books their order securing their delivery date the labor of love begins. I may have to purchase items from a vendor out or in state. Some designs I may have to begin working on the order a week or two ahead. Sugar figurines need 3 days to dry to be placed on cakes or cupcake toppers. Roses depending on how many a client orders may have to be completed two weeks in advance. When I am working on an order I have my music on, head phones in, and cellphone on vibrate. Designing cakes is my therapy and it takes time and attention to details.
Fashion Gxd Magazine: How do you generate new ideas?
De L'or Cakery: I am a seer or what some would refer to as clairvoyance (precognitive/prophetic dreams). Meditation and/or precognitive dreams allow me to launch new ideas or next steps. The universe gives me what I need what I need it not when I want it. My precognitive dreams are sporadic. Yes, I've had precognitive dreams around family, friends, co-workers, and acquaintances. The messages are always delivered to the intended recipient.
Fashion Gxd Magazine : What sacrifices have you had to make to be a successful entrepreneur?
De L'or Cakery: I've made some pretty extensive sacrifices. As a Cake Designer, your clients need your services mostly on the weekends. I've given up my weekends socializing with friends and not being able to go out on dates. The extra cushion I had in the past to play with I used to build my business which I have no regrets now. My business has costed me the loss of relationships. I've had friends that literally stopped communicating with me as I had a business. One person actually called me to tell me that she was jealous of me being single, working full time, having a thriving business, etc. She literally overlooked my struggles. From my eyes, I saw an individual with a husband, kids, and a solid roof over their head, often traveling to in and out of the country, and a very supportive family. I had no idea that she was unhappy. We never spoke again and quite frankly I have accepted this.
Fashion Gxd Magazine : Where you see yourself and your business in 10 years? 20 years?
De L'or Cakery: In the next 10 years, I see the expansion of my business. I have envisioned having a brick and mortar with a flourishing fellowship program with multiple program locations. I've seen the impact that my fellowship program is making in the lives of at risk teenagers. I have envisioned a supportive husband and amazing, intelligent, funny, and talented kids. I have envisioned seeing one of my specific products being sold on QVC allowing me to experience the many opportunities that universe extends when requested.