Written By Samantha Cee
Interview By: Editor-In-Chief Pilar Scratch
Commencing our innovative Series "Inspiring Lives" with Fashion Gxd Magazine we sat down with Media + Fashion Guru Darcel Laurie . Darcel is a powerful Journalist with a vastly impressive background writing for immense publications such as Lucky Magazine Online + Sheen Magazine Online . Mastering the art of maintaining as vast audience , Darcel updates her readers on the latest Trends, Runway reports , Designer's and Interviews. Furthering her brand , Darcel is a wardrobe consulter , assisting individual's to enhance their appearance's . Collaborating with an amazing online boutique , Zindigo. Which provided her with the platform to create DarcelStyleStation where she exhibits and shares great looks , with great prices ... In the midst of Media+ Journalism + Fashion .. Darcel is adding author to her Biography as she s currently finalizing her First Book Now....
Keep Up with Darcel :
shop.zindigo.com/DarcelStyleStation
Instagram & Twitter : @DarcelWorld
Here's this amazing inspiring Woman's Story on her voyage to Success:
Fashion Gxd Magazine : What is your favorite aspect of being an Journalist ?
Darcel Laurie : My favorite part about being a Journalist is the opportunity to meet new people. I enjoy speaking with people from all different backgrounds, hearing their struggles, accomplishments inspires me.
FGM: what was the single most important decision you made that contributed to your success?
DL: I had to make the decision to do things completely afraid. You will never accomplish anything in your life if you are waiting for the "right" time when you think you have everything together.
FGM: What would you say are the top three skills needed to be a successful Journalist ?
DL: Speak up, Research, and be you. There are often times that the 'talent' doesn't have much time to interview with media, and it's you and a whole bunch of other media outlets who want an interview, so if you want to be that person who snags the interview, you have to speak up. Research is important because you want the 'talent' to know that you know what you are talking about. Preparation is everything, lastly, know that your voice is unique and it deserves to be heard. The way for people to gravitate towards you is when you are genuine and have a great personality, so make sure people see it.
FGM: What have been some of your failures, and what have you learned from them?
DL: I would say my biggest failure in life has been me allowing myself to get inside my head enough to get discouraged. It's truly important to meditate on the positive daily and to find a mentor you respect. Another failure would be allowing others commitment level to affect my business. I have learned building a dynamic team is crucial. In addition to that I have learned that it is okay to outgrow people. It's nothing personal but not everyone is going to the top with you.
FGM: What ignited the spark in you to start a journalist venture or to pursue your Journalism career?
DL: I would say my spark was ignited when I was at a point and time when I was struggling financially. I saw that TV Personality Lala Anthony was looking for people to email her their inspiring stories. I sent my email, within the hour I received a phone call, asking if I would like to come film for her show Lala's Full Court Life, the fan appreciation episode. I said "of course!" I barely had any money to afford a bus ride back and forth to New York but I found a way. During the filming I felt the amazing energy of the people she kept around her. She spoke about her passion and accomplishments and I just looked around the room and I said to myself, "I can do this." At that moment what seemed to be a fantasy it can actually be a reality. I realized it wasn't so scary to go after "the dream" that seemed too big, anymore.
FGM: Do you believe there is some sort of pattern or formula to becoming a successful entrepreneur?
DL: I wouldn't say there is a pattern per say but more so an attitude to win. Being a successful entrepreneur, you cannot let the odds get you down. Even when everyone doesn't believe in you, you have to believe in yourself. Even when you get a relentless amount of NO's , you have to still persevere until you get a yes. I am firm believer that you have to create more opportunities than what is actually given.
FGM: To what do you most attribute your success? What would say are the five key elements for being a successful journalist ?
DL: Networking is key; no one will know your talents until you get in a room full of people to tell them who you are. Persistence is another key element; you may not always get the opportunities that you want easily. In order to be a successful journalist, you have to develop thick skin. There are many different personalities in the industry and you have to know how to let most things roll off your back. Confidence is another key factor, there are many talented journalists with successful platforms but you have to confident in your talent and brand and know that you have something great to offer too. Take risks; don't be afraid to step out of the box. Most opportunities come when they are not planned, but when you decide to just go for it anyway.
I would say taking risks is what has contributed to my success because even if I wasn't sure that I was most qualified or most talented, I still took a risk to see what can happen. And most doors opened for me due to that factor.
FGM: What has been your most satisfying moment in business?
DL: I think the most satisfying moment is when I interviewed the infamous and talented designer to the stars, including Beyonce; Michael Costello. I was completely nervous but he was so sweet and genuine, I was able to get through it. To interview someone of that caliber was the highlight of my career.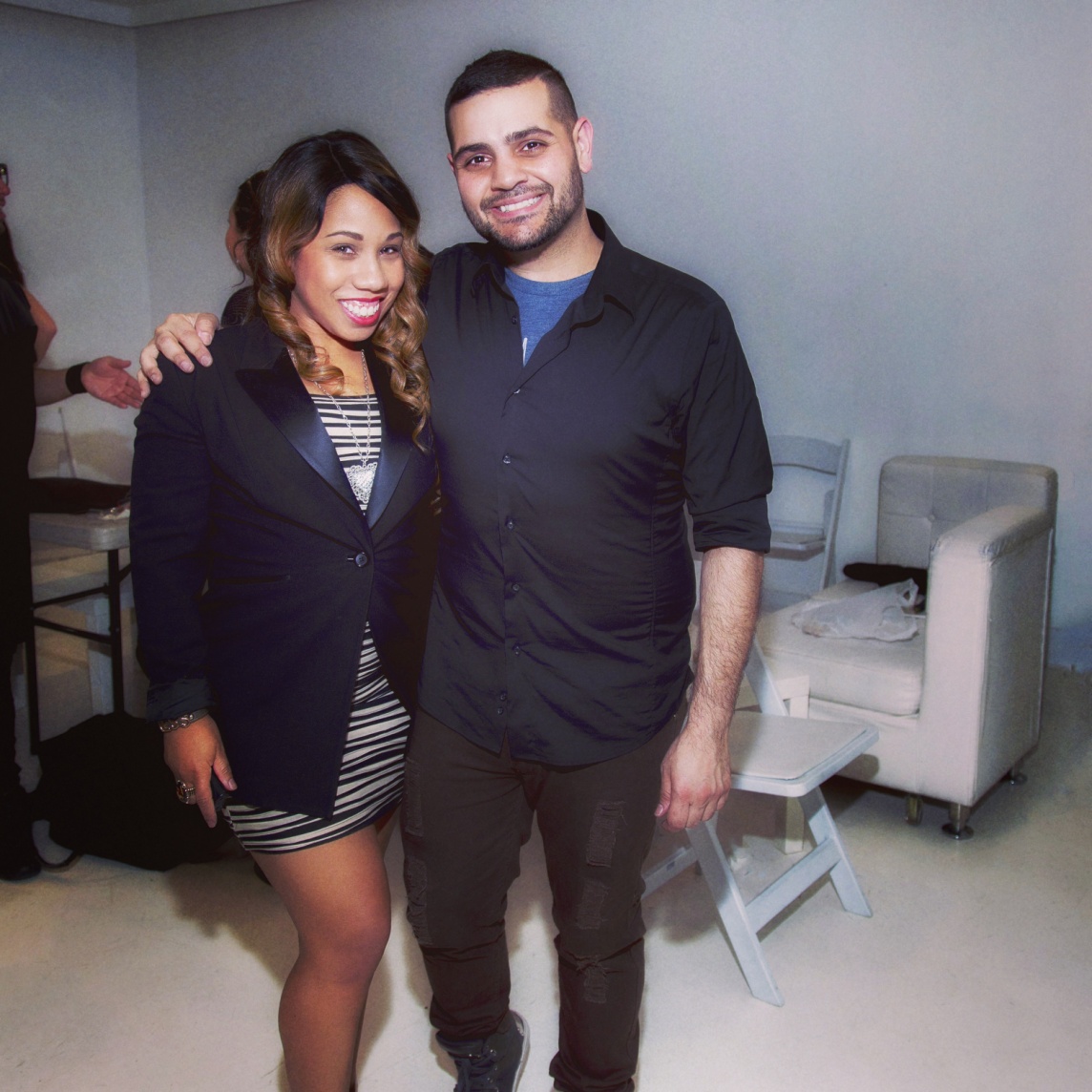 FGM: If you could talk to one person from history, who would it be and why?
DL: If I could talk to someone from history it would be the late great Joan Rivers. I loved her fire and fearlessness. She was bold and said what people were thinking most times. I love the show Fashion Police! After every red carpet, I would say to myself, "I can't wait to hear what Joan thinks about this look." Her platform that she created in fashion is something I aspire to have.
FGM: Who has been your greatest inspiration?
DL: My greatest inspiration would be my mother. I see her love, patience, and drive and that makes me want to work harder to make her proud. I keep pushing for the moment I can give back to my mom because she given so much to me.
FGM: What book has inspired you the most? (OR What is your favorite book?)
DL: Girl Boss is one of my favorite books. To be able to create an amazing career from a period of lack is inspiring to me. Like Sophia, I didn't go to school for Fashion and/or Journalism, I was working in a total different career for years. However, the time that Journalism found me was in a period that I was unemployed and struggling to keep a roof over my head. But through the struggles I knew that one day my persistence in changing careers would pay off.
FGM: What motivates you?
DL: My motivation comes from my drive to want to inspire others. Through fashion and journalism, I want women to know they are unique and beautiful in their own way.
FGM: What three pieces of advice would you give to individuals wishing to get into journalism
DL: I would say, if you want something go for it. Don't look at the obstacles as a failure; look at obstacles as opportunities to show people it can be done. Stay true to your uniqueness, there may be a lot of competition but there is only one you. Intern, gaining experience through internship is important. Internships will show you if this is really what you want to do. Networking is one of the most important advice I can give. You will not become successful by thinking you can do something all by yourself, you have to get out there and meet influential people.
FGM: What is your greatest fear, and how do you manage fear?
DL: My greatest fear is proving everybody right, meaning that I will never accomplish the things I set out to do. I manage my fear through my spirituality. Everyone may believe something different, but for me to know that there is a force greater than myself that has my back and hears my prayers, comforts me. Also, seeing others that made it through things worse than me shows me my fears are not real, they are just an obstacle to get me off course and through persistence I can overcome anything.
FGM: How do you define success?
DL: Success is different for each person. Success may be that single mother who was able to see her kids' graduate college. Success may be getting married to your soul mate. Success may be entering a higher tax bracket. Success is what you set you out to accomplish and you see it come into fruition. For me it's to one day make a mark in this industry to inspire others to be their better selves through the outlet of fashion. Also, I want to create a platform where people can share their inspiring stories that will reach millions.
FGM: What is the best way to achieve long-term success?
DL: The best way to achieve long term success is through patience and diligence. Success does not come over night so you have to patient. And while being patient be diligent to see your dream come true.
FGM: If you could have given yourself a piece of knowledge or advice when you started what would that be? Which opportunities should you have followed; what pitfalls would you have avoided?.
DL: The biggest advice I would give myself, just do it. A lot of times I would think about everything before I made a decision in regards to my career. And in the industry things are very time sensitive. I think if I would have spoken up more in the beginning, I would be further along than I am now. In the beginning of my career, I sometimes was too scared to ask people for help. One thing I learned is being present in the room, because you never know what you can get out of it.
FGM: What is an Inspiring Woman To You ?
DL: An inspiring woman to me is someone who can be kicking butt in her career, etc…but still remains humble. Humility is everything to me. Being successful shouldn't make you mean, it should make a person that much kinder because you know what it took to become successful and that road is never easy.
FGM: What are your hobbies? What do you do in your non-work time?
DL: I love to dance! Lol. Dancing is my stress reliever, being able to let my hair down and just dance to some music gives me life! Haha. I danced since I could walk and I am pretty good at it. Also, making time to spend quality time with family and friends is important to me.